Aryza Advize, software for the debt management industry
Regions available:
Austria
Australia
Belgium
Canada
Cayman Islands
Germany
Netherlands
Ireland
Singapore
New Zealand
United Kingdom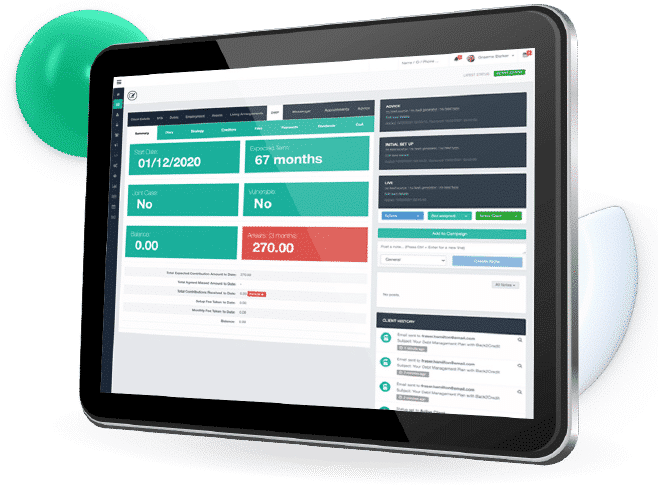 Speak to a member of the team to find out more about Aryza Advize
Debt Management & Insolvency
Debt Management software to automate your business
A suite of tools for case management, customer onboarding and creditor engagement.
Automate your business with debt management software for case management, customer onboarding and creditor engagement. Our award-winning debt management software is ideal for companies in the debt & insolvency industry and beyond, including brokers, lenders, financial advisors, introducers, lead providers and more. Arrange your demo today to learn how we can help you streamline your collection processes and efficiently manage your cases.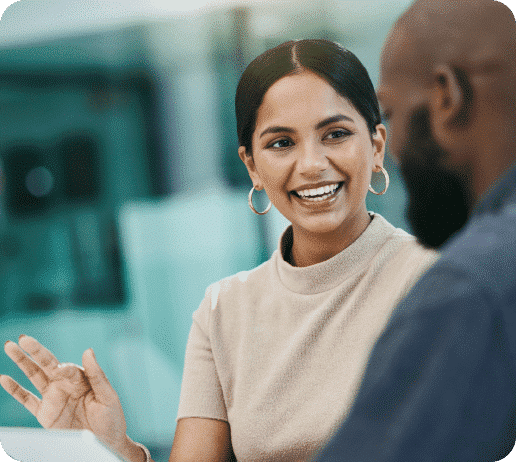 Benefits
Our fully-featured software caters for different types of businesses in credit, collections and debt sectors
Simple to customise and build into your business
Our software's tools are customisable for all financial products. Integrate with partners, automate payments, tasks and communication. Use powerful automations to drive your IFA business.
Powerful support for lenders
From lead generation to final accounting – Aryza Advize for lending allows you to improve conversion rates, quickly assess cases and return decisions with the click of a button.
One tool to manage your operation
All the tools you need, from CRM to automated documents, client communication, open banking with credit searching functionality, cashiering automation, file management and more.
Consistent and compliant approach to insolvency
Serves introducers, IPs and insolvency firms with Income and Expenditure screens for qualifying cases and a module for IVAs and Trust Deeds.
Collect money faster and more efficiently
By managing your cases in one integrated platform, it is less likely that you will miss out on opportunities to collect debts as they age. Increased recovery rates will improve your cash flow and enable you to keep up with customer demands.
Tried and tested omnichannel approach
Send personalised SMS and email notifications to debtors to inform them of upcoming payments. This will make it much more likely that payments are made on time, and customers are kept informed.
Improve performance and profitability
With an effective debt management system in place you are less likely to require the services of a collection agency. This way you can keep your costs lower whilst still ensuring that you receive what you are owed.
Maintain customer relations
As well as making sure that you keep up with your collections, it is equally important that you maintain a good relationship with your customers. Aryza Advize makes the entire debt journey smoother for both the debtor and the debtee, by providing transparent information and a simple-to-use client portal.
Follow ups
Schedule reminders and follow ups for debtors who are not ready to make a decision. Automate the nurturing process.
Aryza Advize Analytics
Schedule reports to hit your inbox every week on any key metrics you wish.
Find out more about Aryza Advize, download our brochure now
Aryza is a powerful force in the debt management solution sector
With over 20 years experience in the sector, Aryza is at the forefront of developing solutions for debt management and insolvency
50
minutes average time saved per customer
40%
average improvement reported on sales after using Aryza Advize
33%
increase in revenue from sales and marketing automation

"If you look at the results we've achieved from partnering with Aryza – they're really staggering. Productivity levels have increased four-fold, we're moving cases so much faster, we have much better client engagement, lower arrears. It's just been a hugely beneficial partnership for us."
Chairman Creditfix
If you are looking for debt advice, click here for a list of free advice organisations
FAQ
Can I use Aryza Advize for the automation of diary lines in the insolvency process?
With Aryza Advize you need never miss a statutory requirement again. It creates up-to-date statutory diary lines for personal and corporate insolvency cases. If there is a change in legislation Aryza Advize will automatically update any statutory requirements to your diary lines.
Proposals can be accepted or rejected from within Creditor Desk. Creditors can also make claims, and all communication can be recorded within the secured portal. The system can also be customised to add your own diary lines for company specific best practices.
Aryza Advize improves productivity with automated task-based processes and prevents debtors from slipping through the net. It is possible to calculate Debt Management Plan contributions, fees and terms at the click of a button, and proposal packs are emailed or printed instantly.
Can Aryza Advize be used by Financial Advisors?
Yes – Aryza Advize is a powerful tool for Financial Advisors
Workflows
Automate processes throughout the customer life cycle and make sure staff are working through compliant processes.
Document Automation
Automate the generation of key fact documents, letters of engagement and more.
Credit Search
Credit reporting built-in for credit searches in seconds, with additional Anti-Money Laundering (AML) reports to help you with KYC and AML compliance.
Seamless Integration
Client portal with integrated Open Banking to communicate with clients, verify ID, pull bank statements, credit reports, AML checks and upload documents – integrating seamlessly with Aryza Advize.
Lead Management
Exceed sales targets every month with intelligent sales automation tools.
Marketing Automation
Generate more leads and work on selling to the most engaged customers.
Digital Signatures
No more hard copies. Make the most of our eSignature integration to speed up document and approval processes.
Aryza Messenger
Connect with customers via our client portal for instant communication – verify ID's, upload relevant documents, pull credit reports, bank statements, Anti-Money Laundering (AML) reports and DVLA checks.
What parts of the debt management process does Aryza Advize automate?
Automate follow-ups
Schedule follow-ups and re-contact reminders, personalised emails, letters and SMS text messages.
Workflow automation
Improve efficiencies with workflows based on triggers for marketing and sales processes, easily configured to your needs.
Document automation & collection
Supercharge your document management process with automated proposals and digital signatures. Aryza Advize automatically stores all documents for every case to save you time when searching for relevant information.
What integrations are available for Aryza Advize?
Aryza Advize allows you to connect with customers via Aryza Advize Messenger, our instant messaging client portal, it also links with major credit bureaus for credit searches with full reference numbers. This will allow verification of identity ID's, upload documents, bank statements, Anti-Money Laundering (AML) reports and DVLA checks.
Aryza Advize also integrates with Sage Pay to set up reoccurring card payments – making payments simple, automated and secure.
Quickly assess debtors' income and expenditure using CFS or SFS guidelines. Run the Aryza Advize decision engine to find the best solution available to debtors and instantly generate proposals.
Full banking integration – connect directly to your bank to process receipts and payments with ease. Automate arrears handling and set auto reconciliation of transactions within our banking module.
To ensure unbiased and best advice is given throughout, Aryza Advize provides compliant document packs and fully customisable checklists to help guide you through compliant advisory.
Customise diary lines to every insolvency. Set tasks for your team and alerts for statutory requirements, and ensure a smooth process from start to finish.
Can Introducers and Insolvency Practitioners use Aryza Advize?
Aryza Advize delivers a full suite of features to manage personal insolvency cases more efficiently. It can also be used in combination with other Aryza tools to form a true end-to-end solution.
For Introducers: with Aryza Advize introducers can manage, advise and convert leads to grow their network and expand their business. If you are an introducer for debt management or insolvency firms, you can join our extensive base of clients who are using Aryza Advize to streamline their debtor qualifying processes.
For Insolvency Practitioners (IPs): Our fully automated software empowers IPs to maximise productivity across their debt portfolios. Aryza Advize provides an effective solution for managing Individual Voluntary Arrangements (IVAs), Trust Deeds and Debt Management Plans (DMPs). Discover our full-suite of features to see why insolvency firms prefer Aryza Advize.
Contact us to find out more about our software
"*" indicates required fields
Mastering Receivables Management: A Guide to your personal Multi-DCA Strategy
Aryza provides young people in Birmingham with Rugby opportunities
100 Days Consumer Duty – Has the FCA requirement already brought about a change?