Software for collections management
Regions available:
Austria
Australia
Belgium
Cayman Islands
Canada
Germany
Ireland
Netherlands
New Zealand
Singapore
United Kingdom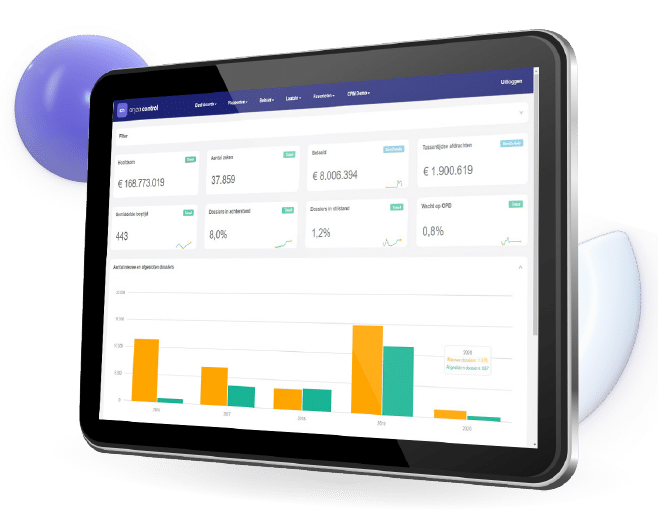 Speak to a member of the team to find out more about Aryza Control
Bailiff, debt purchase, lending, banking, telecoms, utilities
Aryza Control results in healthy cooperation in the credit management chain
Aryza Control is a standard platform for collections management. It provides a complete picture of your entire collections portfolio from your own portal, enabling you to benchmark objectively and have complete control and unique insights.
Aryza Control helps companies to improve their credit management for both B2B and B2C clients. It offers essential insights into the end-to-end debt collections management process. Our SaaS solution will enable you to work more effectively with your collection partners to optimise case management strategies and improve recovery rates and simplify how you manage external collections.
Healthy cooperation along the credit management chain depends on shared ideas and understanding. Aryza Control creates a uniform view of case data and offers powerful tools for analysis and cooperation – all vital elements for an effective partnership.
Benefits
Clients, collection agencies and bailiffs can perform better together
Security in-built
Secure hosted platform (SaaS, ISAE 3402 TYPE II, ISO 27001).
Multiple language options
Available in Dutch, English and German​.
All standard reports instantly available
Aryza Control provides more than 50 different standard reports. You can generate reports at your own discretion with the aid of filters and triggers. The purpose of the reports is to give you peace of mind, as well as the opportunity to check whether the payment arrangements are proceeding according to plan and monitor the cost-benefit ratio, returns, and much more.
Corporate Social Responsibility
Independent and impartial​, the reporting platform, gives you full insight in how invoices and cases are managed. This will create a clear view of social responsibility and prove that your DCA is complying with your business rules.
Completely transparent communications
100% transparency between you and your collection partners.
Quick set-up
Plug & Play, rapid implementation generates immediate yield.
Complete control
Distribution Platform, gives you full control over the outsourcing process from cradle to grave​.
A standard approach
Standard mapping and file formats are available, no discussion about definitions​.
Reassuringly compliant
ISAE 3402 type II and ISO 270001 certified and GDPR proof.
Find out more about Aryza Control, download our brochure now
"Aryza Control and the feedback from our collection partners will teach us a great deal."
Debt Collection Agency Manager at T-Mobile
Contact us
"*" indicates required fields
Mastering Receivables Management: A Guide to your personal Multi-DCA Strategy
Aryza provides young people in Birmingham with Rugby opportunities
100 Days Consumer Duty – Has the FCA requirement already brought about a change?