Facilitates easy digital interaction between creditors and insolvency practitioners
Regions available:
Austria
Australia
Belgium
Canada
Cayman Islands
Germany
Ireland
Netherlands
New Zealand
Singapore
United Kingdom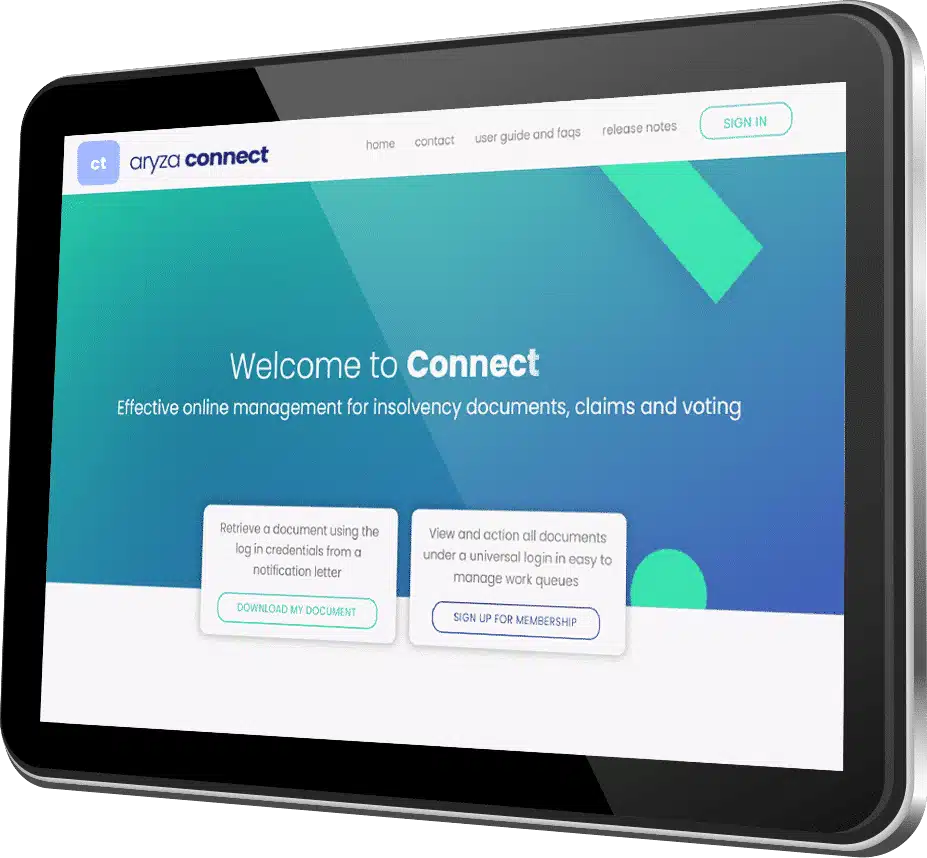 Creditors, Lending, Insolvency, Debt Purchasers
An intelligent FCA-approved insolvency portal
Aryza Connect is unique in the insolvency space as the only two-way automated communication platform. Communicate and share information directly between Creditors and Insolvency Practitioners with the touch of a button.
For Insolvency Practitioners
Aryza Connect allows you to manage insolvency communications with creditors, all seamlessly integrated with your Aryza case management platform.
Aryza Connect for Insolvency Practitioners
For Creditors
Aryza Connect allows you to manage voting and proof of debt submissions through a user-friendly portal or automate processes as part of our light-touch managed service offering.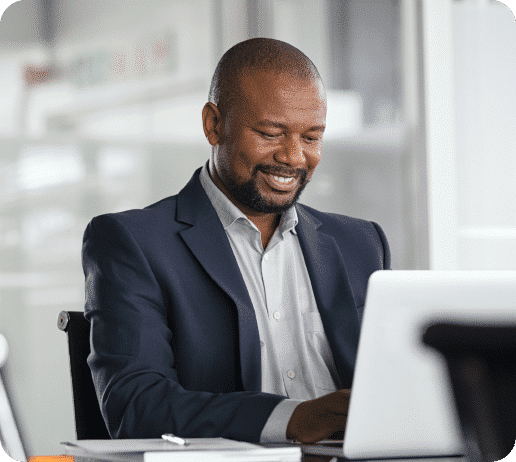 Benefits for Insolvency Practitioners
Our intelligent FCA-approved insolvency portal offers incredible benefits –
Aryza Connect is uniquely placed in the market, offering two-way automated communication between Insolvency Practitioners and Creditors. Whilst there are other portals available on the market, they don't offer the same two-way communication available via Aryza Connect.
A secure environment
Aryza Connect provides the ability for creditors to securely submit Proof of Debt and Votes on insolvency cases which are automatically transferred and updated directly into Aryza Insolvency.
Effective communications
Creditors' communication functionality are enhanced under claims management. This will deliver a claim adjudication workflow with configurable automation for review of claims submitted in creditors web.
Dedicated support team
An in-house account support team is in place who work with creditors to increase electronic engagement, by converting postal creditors to electronic delivery. We also promote the use of the POD/Vote functionality with creditors – e.g., contacting creditors who are logging in but not voting and offering training/guidance to support them in using the functionality.
Increases efficiency
Reduced printing and postage costs with the lowest hard copy rates (3%) in the market, and automatic storing, indexing and retrieval of documents. Creditor responses are pushed into your case management workflows and creditor module.


Electronic by design
Over 97% of creditors choose to engage electronically via the Aryza Connect platform.
Time-saving
Reduces time front line operational staff spend transferring data from multiple formats to case management systems.
Enhanced communication with creditors
More engaged creditors working with a simple Aryza Connect user interface, this electronic-by-design approach with creditor procedure automation built in means that key data is presented to allow the creditor to quickly process and provide information.
Faster delivery
Main agent integration. Bulk processing and xml file exchanges (additional) means faster delivery and response of case information and queries.
Compliance and customer care
Customer journeys are always assured using TCF principles and data security conforms to ISO27001 standards. Aryza Connect also subscribes to vulnerability flagging – supporting over 15% of consumers.
Improved performance
Aryza Connect offers better performance, improved compliance and increased portfolio insight at a granular level. This includes the ability to communicate with 12,670 creditors online through the system.
Aryza Connect a new approach for the insolvency industry
97%
Creditors engage with Aryza Connect
12,670
Creditors available online
50
Brands working with Aryza Connect
Benefits for Creditors
Maximise return whilst minimising risk and effort across your insolvent portfolio
A software driven servicing solution to help you manage your insolvent portfolio. By leveraging over 20+ years of expertise and experience managing £17bn+ using our proprietary systems, we understand the challenges and time taken to manage insolvencies. Our platform enables you to self-serve cases or trigger automated voting and proof of debt submission to streamline your operations.
Timesaving
Aryza Connect allows you to self-serve through streamlined processes or off-load complex and time-consuming tasks, enabling you to focus on your core business activities and strategic initiatives.
Expertise and accuracy
We have a dedicated team of professionals with in-depth knowledge of insolvency and creditor voting and our system can add complex voting modifications.
Automation
Aryza Connect offers light-touch servicing, allowing you to leverage our automated voting and pod submission functionality, all you need to do is provide a balance.
Document Management
Automatic storing, indexing and bulk downloading of relevant case documents ensures you have access to what you need, when you need it
Audit
Aryza Connect offers you granular insight into cases, with auditing showing actions taken, by who and when to give you oversight of your performance.
Revenue generation
By ensuring you are entered into all eligible insolvency cases by the MOC date, you generate more cash from your portfolio.
Enhanced efficiency
Our specialised systems and streamlined processes are designed to optimise operations and improve efficiency, reducing the risk of errors and delays.
Confidentiality and compliance
We prioritise the confidentiality and security of your data, adhering to the highest industry standards and regulatory requirements.
Aryza Connect brings great efficiencies to creditors
40,000+
votes and proof of debts automatically processed
300+
hours saved through automation
Interested in a full managed service to manage your entire insolvency portfolio? At Aryza Evolve, we have over 2 decades of experience in managing all aspects of personal insolvency. Our managed service offering covers the entire Insolvency Practitioner Market, with a proven 95% admittance rate for our clients.
Contact us
"*" indicates required fields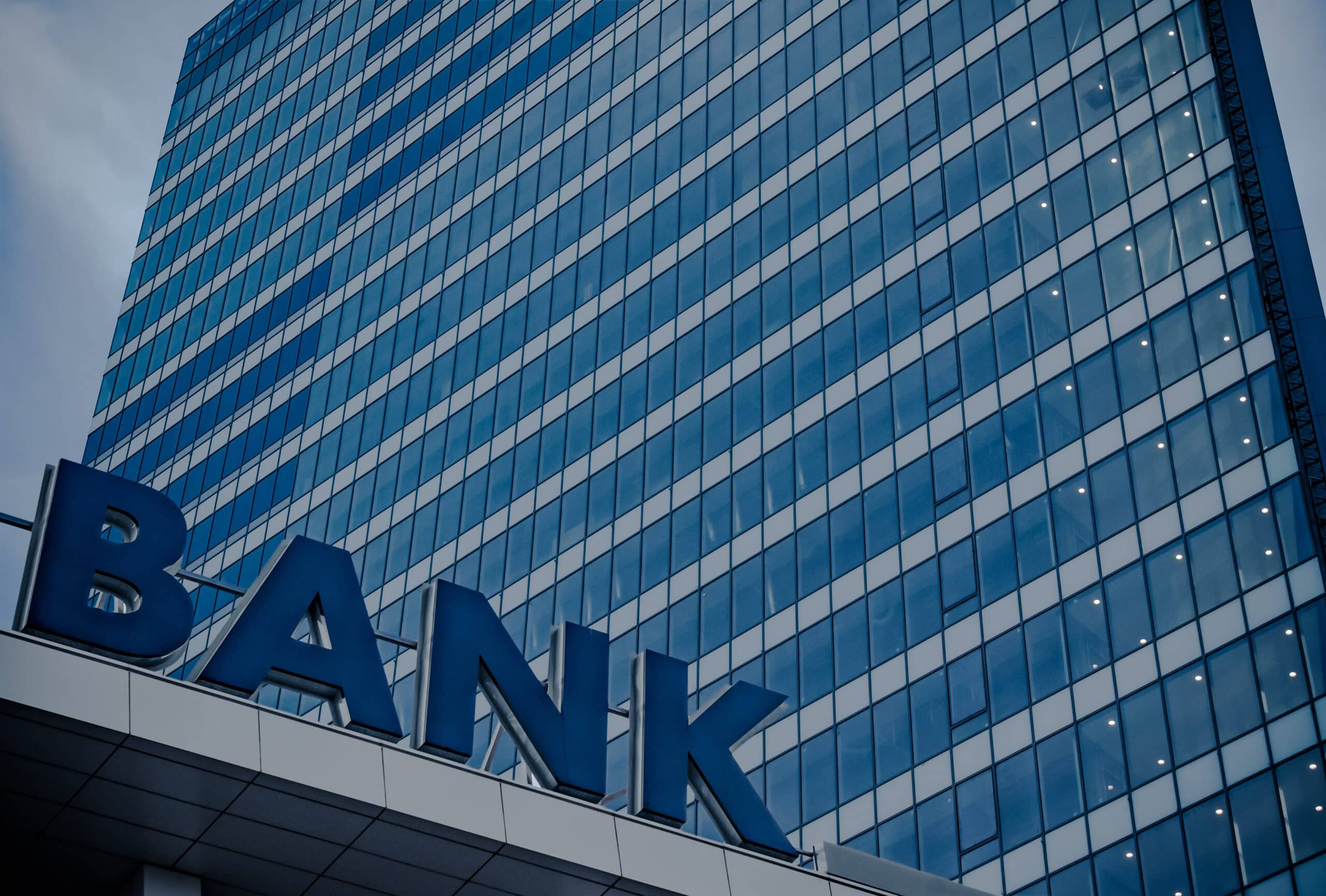 EBA Report Highlights Urgency for IFRS 9 Compliance
Mastering Receivables Management: A Guide to your personal Multi-DCA Strategy
Aryza provides young people in Birmingham with Rugby opportunities